Waldo 10-Piece Homeowner Tool Set for R399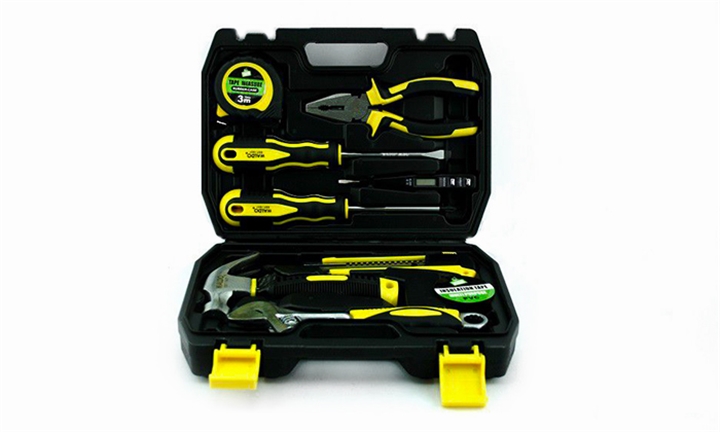 About:
The Waldo 10 Piece Houseowner Toolset is a great housewarming gift idea.

Essential DIY tools:

This Compact Tool Set Contains some of the most reached for tools used in basic DIY Household Repairs

from picture hanging, cutting, etc. this is the perfect starter kit for home DIY.
Waldo hand tool lifetime quality guarantee:

Tools are manufactured from high-grade steel alloy, chrome plated to resist corrosion, with non-slip comfort grip handles for extra torque, and will last a lifetime under normal use.

Tools are neatly stored in a sturdy case that keeps them secure, clean, organised and easy to find.
Content of the 10 Piece Tool Set:

1 x Measuring Tape (3meters)

1 x Insulated Combination Plier (160mm)

1 x Screwdriver (6mm x 100mm)

1 x Screwdriver (#2 Phillips x 100mm)

1 x Digital Voltage Tester

1 x Trimming Knife - Snap off blade

1 x Claw Hammer - Rubber Grip

1 x Insulation Tape

1 x Adjustable Wrench (200mm)

1 x Blow Moulded Carry Case
Delivery for this product will occur within 5-7 working days.

Enter your daytime delivery address during checkout.

We do not deliver to Postnet Suites, Private Bags or Private Boxes.

No further action required.

Delivery address cannot be changed after purchase has been made.

If you are expecting more than one item, they may arrive separately as they might be delivered directly from the supplier.

Standard Returns and Refunds Policy applies, for more information check https://www.hyperli.com/returns-and-refunds
In a Nutshell
The Waldo 10 Piece Houseowner Toolset is a great housewarming gift idea.