Ultimate Career Bundle at Excel with Business
Multiple Locations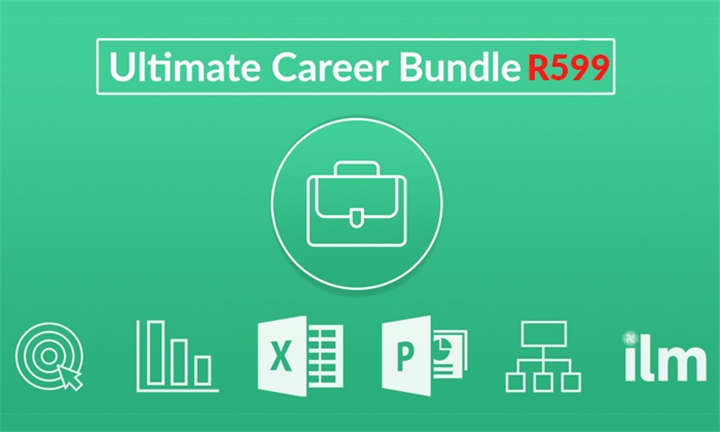 Learn key skills that every modern day office worker needs for a successful career!
Do you ever feel uncertain, out of your depth or confused at work? It's likely you're simply missing some of the key skills to be successful in the 21st Century workplace. The great news is all these skills can be learnt and they are the pathway to your promotion.
This 6-course bundle is aimed squarely at the modern worker and is perfect for anyone who is actively looking for employment, a promotion, or a career change.
Ultimate Career Bundle – R599 (valued at R5372)
What you get with this Ultimate Career Bundle:
6 skills based, practical business courses to help accelerate your career.

350+ modules of training, covering the most business-relevant areas of Microsoft Excel and Business Management.

Tailored learning. If you have some knowledge, you can use the filter to show only what you most need to learn.

Multiple videos, practice exercises and test questions to aid your learning.

Knowledge to understand the data that drives your business.
The courses this bundle will cover:
How Excel works, how to navigate and design a spreadsheet

The most popular formulas including IF, VLOOKUP, COUNT, SUM, SUMIF

To use PivotTables, Pivot Charts and Basic Macros

To create beautiful looking graphs and charts

Formatting, including; conditional, cell and number formatting

How to print what you want
Tips and shortcuts to improve your PowerPoint speed and efficiency

About using text boxes, shapes, images and drawing tools

How to create excellent transitions and animations

To customise and format PowerPoint to your taste

How to make a presentation flow using charts, graphs and tables
How to turn buckets of data into sound business decisions

Financial modelling theory

Essential Excel analysis techniques such as Dynamic Ranges, and Advanced Charts

How to effectively and clearly present your findings to relevant stakeholders

Different forecasting techniques, including Moving Averages and Regression
Introduction To Leadership & Management – ILM:
The most effective way to communicate as a manager

How to train and develop your team, personally and professionally

How to benchmark and audit performance to ensure continued performance

Master the core principles of people and performance management.

Business planning, decision making and how to lead in person or virtually

Developing your own leadership style
Strategy & Business Models:
How strategy has changed in the 21st Century and what that means for your business

How to recognise, develop and execute a successful strategy using business model frameworks

How to identify the drivers of strategy formulation using Megatrend Analysis

To adopt a dynamic and agile approach to deal with continuous change
Critical Thinking & Problem Solving:
The core concepts of critical thinking and how they relate to business

How to solve problems using comprehensive but straightforward frameworks

How to gather supporting data in a time-efficient manner

To compare different solutions that seem incomparable
Level: Intermediate - Advanced

Duration: 67 hours

24/7 Access

Video Tutorials

Accreditation: CPD UK

Certificate included upon completion
Validity: The voucher is valid until 31 December 2019.

Online redemption required.

No-shows forfeit Hyperli voucher.

Course content available for 12 months from registration date.

Internet connection required.

NO refunds on codes deals.

For any queries contact

support@excelwithbusiness.com

(registration, redeeming your voucher, issues with course etc)
In a Nutshell
Validity: The deal is valid until 31 December 2019. Online redemption required. Course content available for 12 months from registration date. Internet connection required. NO refunds on codes deals.