Nepal: 18-Day Annapurna Circuit Trek
Bagmati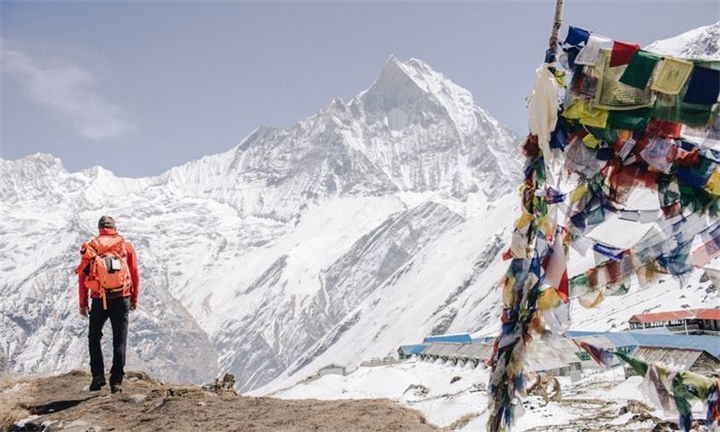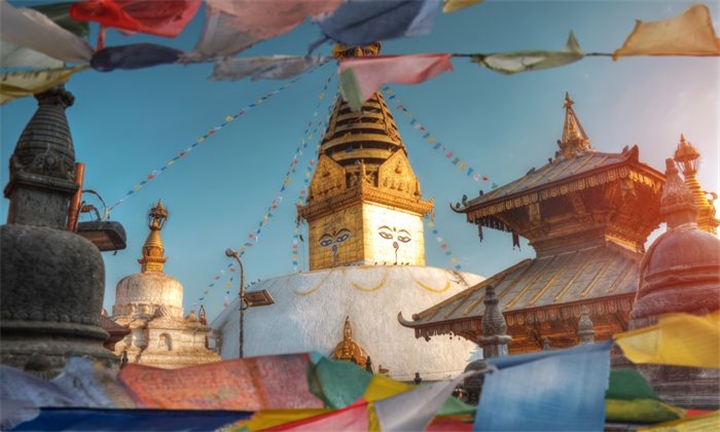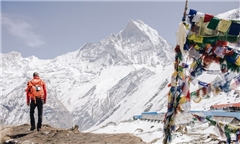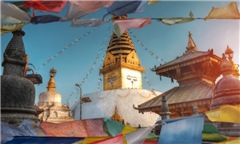 Trekking in Nepal is truly a once in a lifetime experience that should be experienced by all. The diversified wilderness experience that enchants at each turn along with a unique cultural experience that captivates, makes for unbelievable and mesmerising holiday.
The 18-day Annapurna Circuit Trek takes travellers along lush green foothills at low altitudes to the heights of 5416m to experience the Annapurna massif. From the subtropical jungle to high and dry landscapes allows each trekker to see the spell bounding glory of Mt. Annapurna and Mt. Dhaulagiri, as well as walk along the world's deepest Kali Gandaki Gorge, the beautiful Manang valley and the Tilicho Lake – the famous spiritual site of Hindus. Not to forget, the astonishing challenge of crossing the Thorong La pass at 5,416 metres can be the most memorable event throughout the journey.
Switch the bustle of city life and experience the delights of the Mother Nature and the unique culture, history and architecture of the majestic and mysterious Nepal.
18-day Annapurna circuit trek – R12 499 (valued at R25 000)
Day 01: Arrive at Kathmandu (B.B)
Upon your arrival time, a representative from Nepal Trekking Routes will reach Kathmandu International Airport [TIA] to welcome and receive you. You will then be escorted to your hotel where you can refresh and relax and in the evening a welcome dinner programme will be organised at a Nepali restaurant. Overnight in Kathmandu.
Day 02: City Sightseeing and Trek Preparation (B.B)
After enjoying morning breakfast, you will be picked by your guide from the hotel and take around Kathmandu for sightseeing. You will visit world heritage monuments such as Kathmandu Durbar Square, Pashupatinath, Swoyambunat and Bouddhanath. In the evening, our trekking guide will conduct a briefing about the trekking program before dinner. Overnight at Kathmandu.
Day 03: Drive from Kathmandu to Syange (1100m/3608 ft): 8 - 10 hours (B.B)
We begin our long drive to Syange early in the morning. En route we get to enjoy the countryside of Nepal with its green hills, winding rivers, terraced farms and of course the mighty Himalayas. Overnight in Syange.
Day 04: Trek from Syange to Dharapani (1,960m/6,430ft): 7 - 8 hours (B.B)
We enter Manang district after crossing a large bridge near Tal. The trail passes through barley, rice and potato fields; and the waterfalls continue to accompany us even today. We also pass through the village of Kodo before reaching Dharapani which is one of the biggest villages in the Manang valley. Overnight in Dharapani.
Day 05: Dharapani to Chame (2,710m/8,891ft): 5 - 6 hours (B.B)
Today we negotiate a few steep forested ridges along with several landslides on route to Chame. We should not forget to look up though, as we will be greeted with remarkable views of Lamjung Himal, Annapurna II, and Annapurna IV (7,525m). We also come across small hot springs which should help us relax for a while. Overnight in Chame.
Day 06: Chame to Pisang (3,300m/10824ft): 5 - 6 hours(B.B)
We walk through a steep and narrow valley to have our first view of Paungda Danda rock face, a dramatic curved rock face rising 1500m from the river. From here, we also gain excellent views of Annapurna 2 to the south and Pisang Peak to the north east. Next, we descend to the Manang Valley floor enjoying the captivating landscape. Overnight in Pisang.
Day 07: Pisang to Manang (3,500m/11,482ft): 6 - 7 hours (B.B)
From Pisang there are two routes to Manang. We choose the one which passes through Upper Pisang via Geru as it guarantees outstanding views of Mt. Annapurna, Pisang Peak, and others. As we walk near Manang the climate becomes more cold and dry. However, a short visit to Barge Monastery, the biggest monastery in the Manang District should cheer us up. Overnight in Manang.
Day 08: Manang: Acclimatisation day (B.B)
In order to keep fit on the trails that follow, we keep ourselves busy today with a short hike to either Bhojo Gumba or Gangapurna Lake. If we have the energy, we can even hike to Vraga Village where we can visit the Himalayan Rescue Association which will give us some idea about Acute Mountain Sickness (AMS). Overnight in Manang.
Day 09: Manang to Siri Kharka (4060m/13,320ft): 4-5 hours (B.B)
From Manang we head out through the western gates and follow the path down to the river. We cross the river and continue walking on its southern side through coniferous forest. After reaching Kangsar Village we walk further up towards Siri Kharka and pass a monastery on the way. The uphill walk could be tiring but we will have Gungang Himal and Mt. Chulu in the backdrop to keep us company. Overnight in Siri Kharka..
Day 10: Siri Kharka to Tilicho Base Camp (4140m/13,583ft): 5-6 hours (B.B)
While the path from Siri Kharka to Tilicho Base Camp isn't very steep or physically strenuous, it could be exhausting as we have to walk on narrow paths in loose scree and landslide area. Our trail goes through the middle of the landslide area whereby we can see impressive rock formations along the trail. Overnight in Tilicho Base Camp.
Day 11: Visit Tilicho Lake (4,949m/16,138 ft) then back to Siri Kharka: 5-6 hours (B.B)
After the initial tough, steep, switch backed ascent, our trail continues to hug the side of the mountain in a gradual to steep incline before reaching the watershed. On the way we enjoy yaks and deer grazing above and below our trail. On the other side is Tilicho Lake, a large spectacularly set lake nestled at the foot of the north face of Tilicho Peak. The lake was reffered to by the leader of the French expedition team as 'The Great Ice Lake'. The Lake also holds an important place for the Hindus as this sacred lake features in one of the holiest texts of the Hindus, The Ramayan. We retrace our step and return to Siri Kharka. Overnight in Siri Kharka.
Day 12: Siri kharka to Yak kharka (4040m/13,020ft):4-5 hours (B.B)
We leave Siri Kharka and descend towards Khangsar Village. On the way, we pass Tare Gumba, a thousand year old monastery which is very important to the local people. Upon reaching Khangsar Village we realize that it is un-inhabitated except for occasional herders during festival times. We follow a rock wall out of Khangsar. We walk further more until we reach a seasonal bridge in the Thorang Khola valley. After crossing the river, we ascend for a while to a plateau. Next, walk furthermore until reaching Yak Kharka. Overnight in Yak Kharka.
Day 13: Yak kharka to Thorang Phedi: (4420m/14501ft): 3-4 hours (B.B)
It is an uphill walk to Thorang Phedi. After walking for some time we cross a suspension bridge and reach Ledar village. We ascend furthermore and pass through towering cliffs before reaching Thorang Phedi, the last village before Thorong La. On this trip we are rewarded with one of the best views of Mt. Gundang, Mt. Syagang, Thorung Peak and Mt. Khatungkan.
Overnight in Thorang Phedi.
Day 14: Thorong Phedi to Thorong La pass (5416m/17764ft) to Muktinath (3,800/12,467ft): 7 - 8 hours (B.B)
Crossing Thorong La pass, one of the highest passes in the world will be our ultimate objective today. We will be crossing the pass from east to west (Manang to Muktinath) which is the easiest and safest direction. We get up around three in the morning and walk up the mountain. When we finally make it to the top, we realize that our journey was worth it. We can take a few photos before heading to Muktinath Valley at the foot of the Thorong La pass. Overnight in Muktinath.
Day 15: Drive from Muktinath to Tatopani (1,200m/3937ft): 6 - 8 hours (B.B)
In the morning we visit the Muktinath Temple which a sacred place for both Hindus and Buddhists. In Hinduism, the temple is believed to be a sacred place called Mukti Kshetra, which literally means the "place of liberation or moksha". After a visit to the sacred place, we drive to Tatopani and spend the night.
Day 16: Muktinath to Jomsom (B.B)
Trek to Jomsom all the way down to Jomsom you will enjoy your day walk down hill up to the kagbeni and walk through the kaligandaki corridor to the Jomsom
Day 17: Drive to Pokhara/ flight to Pokhara (B.B)
Day 18: Drive back to Kathmandu. (B.B)
Enjoy a scenic highway drive back to Kathmandu which takes about 6 hours.
Depending on the time of your departure, our representative will accompany you to Tribhuvan International Airport.
You've Arrived! Check out Hyperli Flights powered by TravelStart. Find the cheapest flights, get an estimate and compare prices with major airlines on all international and local flights in seconds.
The deal is valid until 27 November 2019.

Valid for specified departure dates only.

Reservation required: Email: info@nepaltrekkingroutes.com.

Provide a photocopy of your passport.

For more information visit: https://nepaltrekkingroutes.com/terms-and-condition.

No-shows forfeit Hyperli voucher.

Subject to availability.
21 and 28 February

2, 6, 12, 17, 22 and 28 March

4, 8, 14, 19, 24 and 30 April

4, 8, 14, 19, 24 and 30 May

6, 13, 19 and 26 June

5, 11, 16, 22 and 26 September

1, 6, 11, 15, 19, 22 and 27 October

3, 7, 11, 16, 22 and 27 November
Airport pick-up and drop off service,

Trekking Guide and Trekking porter(Two participant 1 porter, Porter carry 25 Kg )

Breakfast, accommodation during the trekking

Thamel Park hotel or equal level hotel in Kathmandu

Sleeping bags, down jackets, duffel bags and trekking sticks (if required)

Trekking permit of National park,

TIMS(Trekking Information Management System )

Insurance and equipment for the trekking staffs

First aid kit

Farewell dinner in Kathmandu with cultural program in typical Traditional Nepali restaurant

Arrangement of Emergency Helicopter service which will be paid by your Travel Insurance Company.
International flight to and from Nepal.

Nepal entry visa fee (you may easily issue the visa upon your arrival at Tribhuwan International Airport - Kathmandu).

You will require two passport size photos.

Your Travel insurance.

Food (lunch and dinner) during the trekking/tour.

Your personal expenses. Entrance fee while you are doing sightseeing tour in Kathmandu. Hot Shower during the Trek.

Tips for the guide and staffs.

Hot shower, battery charge etc.

Anything not mentioned in the included section.

All meals and flights not specified, travel insurance, items of a personal nature, porterage and tipping and sightseeing not mentioned.

Merchant is solely responsible to purchasers for the care and quality of the advertised Goods and services.

Personal expenses

Heritage entry fee during the sightseeing Kathmandu & Pokhara

Lunch, dinner, drinks, beverages, hot shower, extra accommodation in Kathmandu

Single supplementary (per person accommodation USD 50) Per night

During the trekking single supplementary is USD 100

Travel insurance

Round trip flight fare for Kathmandu-Pokhara-Kathmandu

Tips for guide and porter

Extra Meals & hotel accommodation in Kathmandu other than mentioned in Itinerary
In a Nutshell
The deal is valid until 27 November 2019. Valid for specified departure dates only. Reservation required: Email: info@nepaltrekkingroutes.com. Provide a photocopy of your passport. For more information visit: https://nepaltrekkingroutes.com/terms-and-condition. No-shows forfeit Hyperli voucher. Subject to availability.