Luxury Cruise: 7-Night Italy, Greece Cruise for Two Aboard the Costa Mediterranea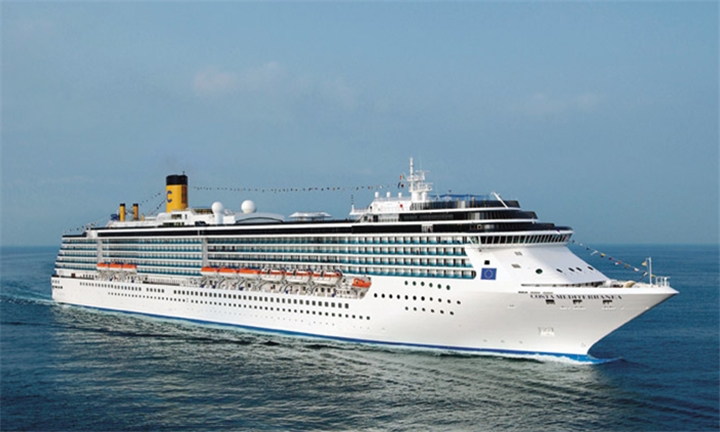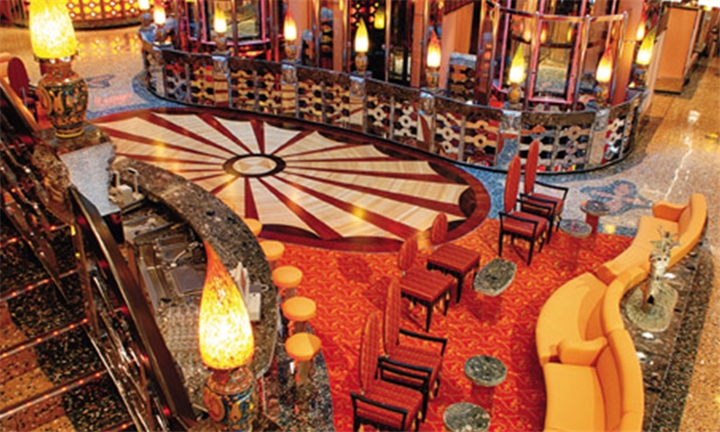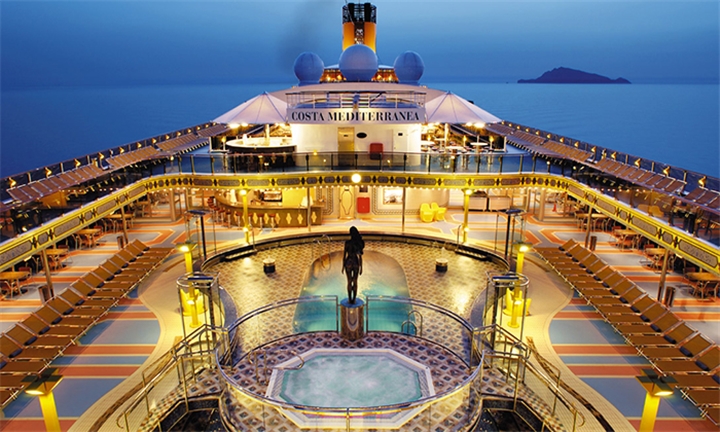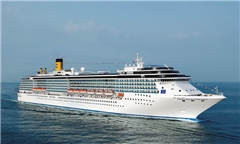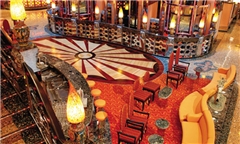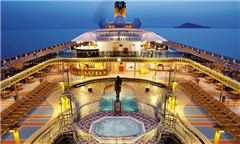 Set sail aboard the Costa Mediterranea and experience the magic of Italy and the mystery of Greece.
Created to seduce, charm, satisfy and fulfil every desire, Costa Mediterranea is the perfect ship to give you a unique sensory experience.
Created to dazzle and provide unforgettable moments, the ship is the diamond in the Costa fleet.
7-Night Italy, Greece Cruise for Two – R24 959
Hyperli Deal includes an Inside Classic cabin with Pranzo e Cena Beverage package.
Argostoli/Kefallinia (Greece)
Fun, colourful and bright, the Costa Mediterranea cruise will enchant you as soon as you enter the main Hall, with its panoramic glass lifts and sculptures of dancers. And up above, a glass ceiling with views of the sky. Costa Mediterranea is Italian elegance, refined in its details, with many works of art, inspired by the style of noble Italian palaces of the 16th and 17th centuries. The Argentieri Restaurant is particularly stunning, with its balcony and 139 works of art made of silver. And for those who love sport, there is a large and dazzling gym on three floors overlooking the sea, and a multi-purpose sports court on the top deck.
Apollo Bar

Argentieri Restaurant

Armonia Pool Bar

Art Gallery

Cadmo Bar

Cana Grande Bar

Canal Grande Casino

Card Room

Casanova Bar

Chapel Room (Roman Catholic Service)

Children Only Swimming Pool

Club Bar Madusa

Club Medusa a la carte Club Restaurant

CostaClub Corner

Fitness Centre / Gymnasium

Internet Point

Ischia Spa

Jacuzzi HydroMassage Baths (3)

Jogging Track

Laundry

Library

Maschera d'Argento Bar

Medical Centre

Osiris Theater

Perla del Lago Buffet Restaurant

Photo Shop

Pizzeria Posillipo

Ristorante Degli Argentieri

Roero Bar

Sala Dionisio (Conference Room)

Sala Olimpia (Meeting Room)

Salone Giardino Isolabella

Shopping Centre

Solarium

Solarium Bar

Sports Courts

Squok Club (Children's Area)

Swimming Pools (3)

Talia Bar

Terme Ischia

Venus Beauty

Virtual World Game Room

Wellness Restaurant
You've Arrived! Check out Hyperli Flights powered by TravelStart. Find the cheapest flights, get an estimate and compare prices with major airlines on all international and local flights in seconds.
All bookings must be made within 7 working days of purchasing Hyperli.

Hyperli valid for selected Costa Meditteranea 7 Night itinerary, departing on 13 June 2020 from Bari and returning to Bari on the 20th June 2020.

This cruise departs from and returns to Bari and passengers need to make their own way to and from the port.

Reservations: Email monica@cruisemasters.co.za

Deal is for an Inside Classic Cabin Included in price is a Pranzo e Cena Beverage Package.

Upon making a reservation, booking is subject to availability in the advertised category.

Ocean-view categories may have restricted views.

Hyperli excludes flights, pre/post hotel and transfers and CruiseMasters will recommend a travel agent for these services.

Valid passport essential.

Correct visa requirements are essential to avoid being denied boarding and visas must be arranged independently by guests.

Should the requested cabin option or cruise option no longer be available at the time of making the booking with CruiseMasters, then the passengers will be offered alterative categories and/or departure dates on selected cruises only (at CruiseMasters' discretion) and the difference in cruise fare will be payable (if applicable).

Pricing and bookings are subject to availability at the time of redeeming Hyperli voucher and providing us with the booking form with guests names.

Booking will only be confirmed once forms are returned completed and port charges paid in full.

Rates exclude flights, visas, travel insurance, port charges of EUR 150.00pp, Costa's optional insurance of EUR 11.00 per person, items of a personal nature, porterage, transfers, beverages, optional shore excursions, gratuities and bar service charge.

Port charges are excluded from the Hyperli price and subject to change and/or increase and are also subject to change for alternative departure dates. Port charges must be paid separately and directly to CruiseMasters in Rands.

Children under 18 sharing with two adults and/or additional adult passengers can be accommodated in a cabin (maximum 4 passengers per cabin, and subject to availability of suitable triple and quad cabins) and will pay the Costa Cruises published 3rd/4th child/adult sharing rates plus port charges and optional insurance. Children under 18 years sharing with 2 adults in the same cabin cruise for FREE but pay port charges and insurance. Payable on board are gratuities and service fees. Booking a triple or quad cabin may affect the advertised Groupon per person sharing price for 1st and 2nd passengers if a higher cabin category needs to be booked to accommodate 3rd and 4th passengers. Triple and Quad cabins are limited on this sailing and subject to availability.

Minimum passenger age is 6 months.

Subject to availability.

CruiseMasters will also charge a cancellation admin fee of R 1500.00 per person, regardless of when the booking is cancelled.

Picture displayed is a representation.

Costa Cruises & CruiseMasters terms and conditions apply.

Hyperli Deal includes a Inside Classic cabin with Pranzo e Cena Beverage package.
In a Nutshell
All bookings must be made within 7 working days of purchasing Hyperli. Hyperli valid for selected Costa Meditteranea 7 Night itinerary, departing on 13 June 2020 from Bari and returning to Bari on the 20th June 2020. Reservations: Email monica@cruisemasters.co.za