Tickets to ComicEx Cape Town: 30 June and 1 July 2018
Cape Town
Sold Out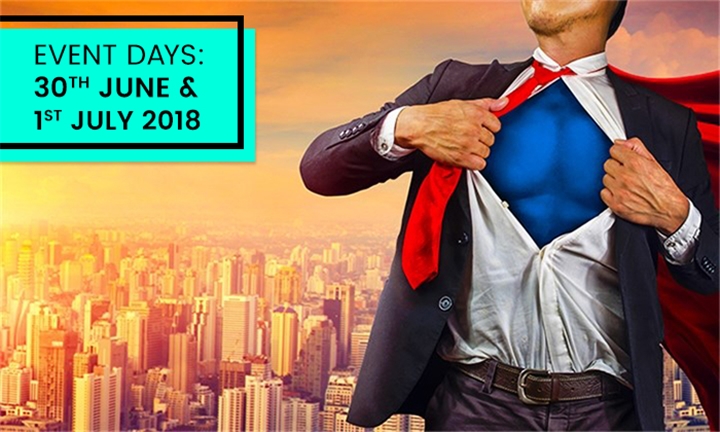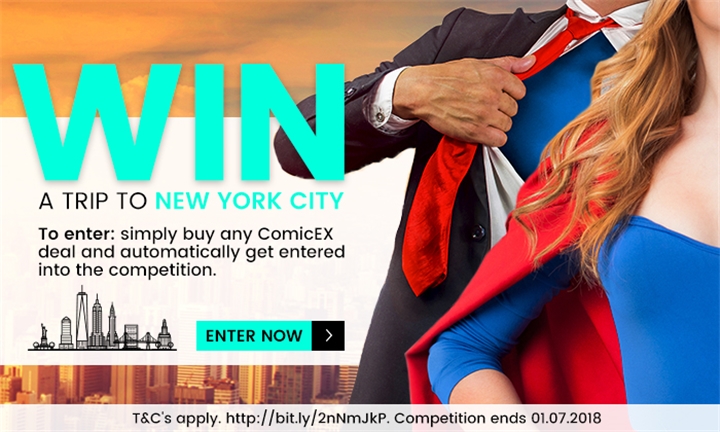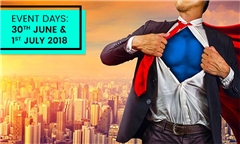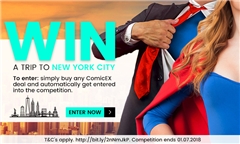 WIN a Trip to New York City with Comicex and Hyperli, simply buy the deal to enter.

Find out more: https://www.hyperli.com/pages/win-a-trip-to-nyc

For the first time EVER, superheroes will be taking over from the 30th of June to the 1st of July 2018!
What is ComicEx?
ComicEx is a Comic-Con styled event.
What is ComiCon or ComicEx?
It's a celebration of different aspects of "geek culture". A place where fans of gaming, sci-fi movies, cosplay, superheroes and villains, wizards, zombies, etc. can come together.
When and where is ComicEx taking place?
Durban 26 and 27 May 2018, Cape Town 30 June and 1 July 2018, JHB 1 and 2 December 2018. It takes place over two days at specified arenas.
What can people expect at the event?
We have Comic Book stalls, Merchandizing stalls, Gaming, Live Action Role Play, Alien Laser tag/Paintball Arena, Cosplay- people dressing up as Superhero's or villains, Movie Theatre, Free Wi-Fi, Competitions and lots more.
Will I have to dress up?
No, if you don't want to, it's not necessary and there are tons of activities in the arena. If you wish to dress up, please do and have fun.
Will I have to pay for the activities in the arena once I purchase a ticket
No, most activities are free, including the movies, alien laser tag/paintball arena, gaming etc. Your ticket grants you access.
How much are the tickets and how do they work?
This is a pre-ticketed event. Ticket prices are very affordable. R100 for each day or R150 for both days access. VIP Tickets allows you unrestricted access, no queuing to enter, one free meal and access to VIP lounges and special competitions. You will also be given wristbands on the day allowing you pass outs so you can come and go to the arena as you please. Once you arrive on the day, sign in at the admissions desk with your ticket and have fun.
What are the age limits?
There is no age limit. This event is for everyone. Ticket gets you in.
What are the times of the event?
The event begins each day at 8am and ends at 7pm.
What competitions are there and how do I enter?
Each ticket purchased already enters you into a prize draw. There are numerous prizes e.g. A years supply of uncapped internet to the value of R25 000.00, Mall shopping vouchers to the value of R10 000.00 to spend at any store in the mall, R20 000.00 in restaurant vouchers, 4 VIP ComicEx experience tickets, sound bars, gym equipment, smart watches and lots lots more. Our major competition is a trip to New York or another major city that includes London, Dubai, Mumbai, Bangkok, Bali, Singapore or Rio.
Where can I get more information from?
You may contact ComicEx directly on Facebook or email: info@comicex.net.
What's The Deal?
Saturday, 30 June 2018: 2 x tickets to ComicEx – R125 (valued at R200)

Sunday, 1 July 2018: 2 x tickets to ComicEx – R125 (valued at R200)

Two day access tickets to ComicEx

– R185 (valued at R300)

Two day VIP access tickets to ComicEx

– R679 (valued at R1100)
A portion of the ticket sales will be donated to the Johannesburg Society for the Prevention of Cruelty to Animals (SPCA). A local children's' home will also be invited to enjoy a VIP experience at ComicEx.
Venue:

GrandWest Casino – 1 Jakes Gerwel Dr, Goodwood, Cape Town, 7460.
The deal is valid for either or both Saturday, 30 June & Sunday, 1 July 2018.

Valid for option purchased only.

Venue: GrandWest Casino –

1 Jakes Gerwel Dr, Goodwood, Cape Town, 7460.

No refunds allowed.

No reservations required.

You may contact mall management or ComicEx directly on Facebook or email info@comicex.net for more information.
Terms and conditions:
Single ticket allows you one chance at a draw for an individual trip.
Double ticket allows you two chances at the draw for one individual flight win.
VIP double ticket allows you entry for a chance to win for both to fly out to New York.
Prize includes flights, 3 nights accommodation, USD 400 or R5000.00 spending
All ticket buyers wishing to enter the competition must mail the following address to register ticket purchase: comp@comicex.net
Should visa for US not be attained, ComicEx has the right to substitute another international destination of their choosing which may include one of the following:
London- UK, Mumbai -India, Bangkok –Thailand, Bali- Indonesia, Singapore, Hong Kong, Dubai- UAE, Abu Dhabi, Kuala Lumpur- Malaysia.
All draws are final and not transferrable.ComicEx reserves the right to disqualify persons from the competition.
All ticket holders will also be entered automatically for draws and a prize giveaway, which includes cash, give aways, Internet packages, hotel stays and so much more.
In a Nutshell
The deal is valid for either or both Saturday, 30 June & Sunday, 1 July 2018. Printed Hyperli voucher to be presented upon arrival. Valid for option purchased only. Venue: TBC